Article: Our Equestrian-Style Fall Guide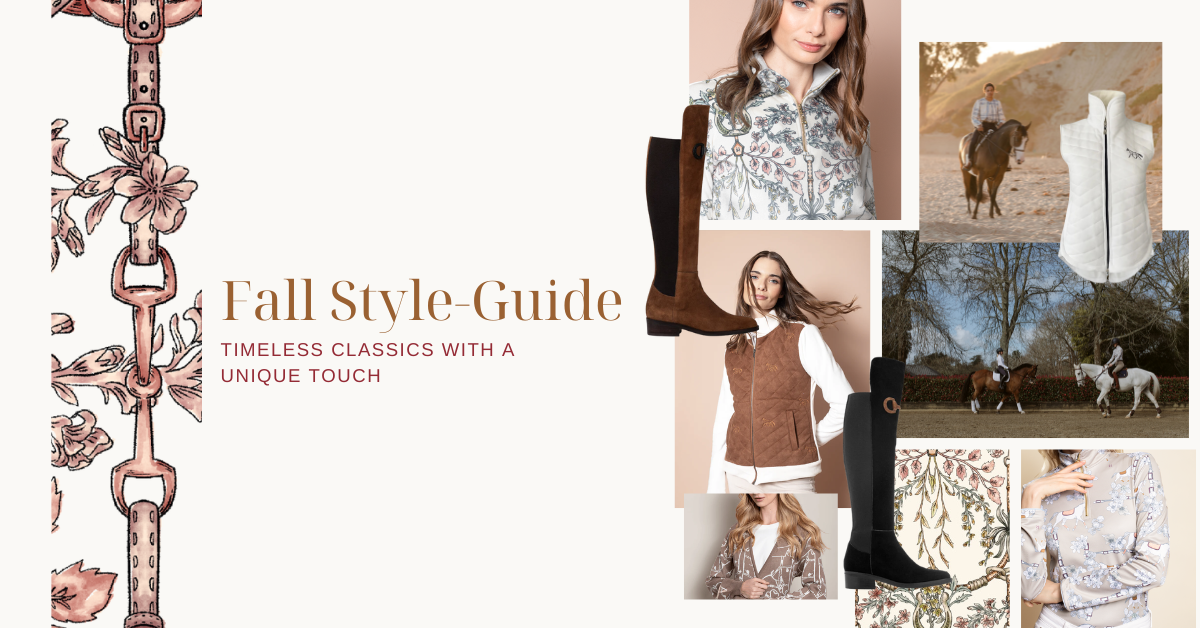 Our Equestrian-Style Fall Guide

Elevate Your Fall Wardrobe with Equestrian Elegance
As the leaves turn and the air takes on a crisper note, there's something undeniably captivating about fall fashion and equestrian-style. It's a season that calls for a blend of style and practicality, and that's precisely what we've curated for you in our Equestrian Fall Style Guide. A Selection of our favorite pieces for this season, adding your personal touch with timeless and effortless classics.
The Wanderlust Jacket:
Quilted Suede, with equestrian details: Riding in Style
Our new Wanderlust Jacket in quilted suede with embroidered details, is the epitome of chic equestrian fashion. Crafted with a sporty yet polished look, it effortlessly combines suede with a smooth velvet fleece on sleeves and lining. These jackets are your perfect companion for those colder days in the saddle, providing warmth and style in one. Plus, they make for a fabulous layering piece to create those classic equestrian looks that will always be a style staple.
Over-the-Knee Suede Boots with Timeless Appeal
For the ultimate in equestrian footwear, our over-the-knee suede boots are a must-have this season. Adorned with detailed leather bits, they exude timeless class and elegance. These boots effortlessly elevate your outfits, providing that classic equestrian touch that never goes out of style. Whether you're in the barn or hitting the town, these boots are the perfect choice for a sophisticated look.
Printed Feminine Blouses: A Touch of Equestrian Sophistication
Our collection of printed feminine blouses adds a unique touch of equestrian sophistication to your festive looks. The delicate prints and tailored design make these blouses the perfect choice for bringing a touch of equestrian flair to your fall outfits. From casual gatherings to formal events, these blouses are versatile and stylish.
Versatile Vests for Every Occasion
Fall wouldn't be complete without cozy vests, and our selection this season is a true highlight. With a wide range of silhouettes and fabrics, you'll find the perfect vest for every occasion. From quilted details to embroidered horse motifs, these vests add a unique and personalized touch to your everyday riding looks or preppy equestrian-style outfits this Fall season.
In our Fall Style Guide, we've curated a collection that embodies the essence of equestrian style – a perfect blend of elegance, functionality, and timeless appeal. Elevate your fall wardrobe with these carefully chosen pieces that capture the spirit of the season and the grace of equestrian fashion.
Visit our store now to explore these fantastic additions to your fall wardrobe and embrace the beauty of equestrian style this season.
#EquestrianStyle #FallFashion #EquestrianElegance